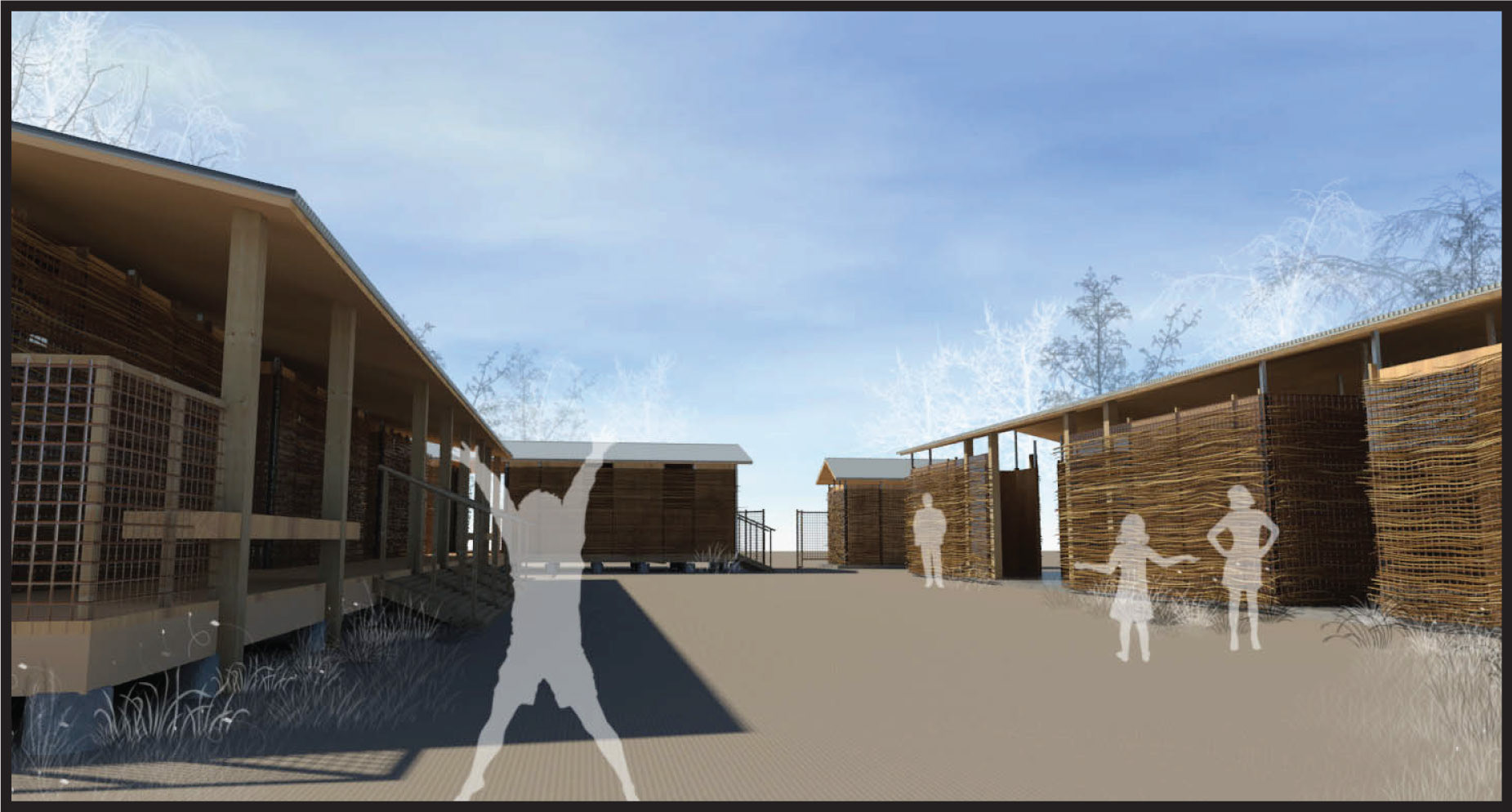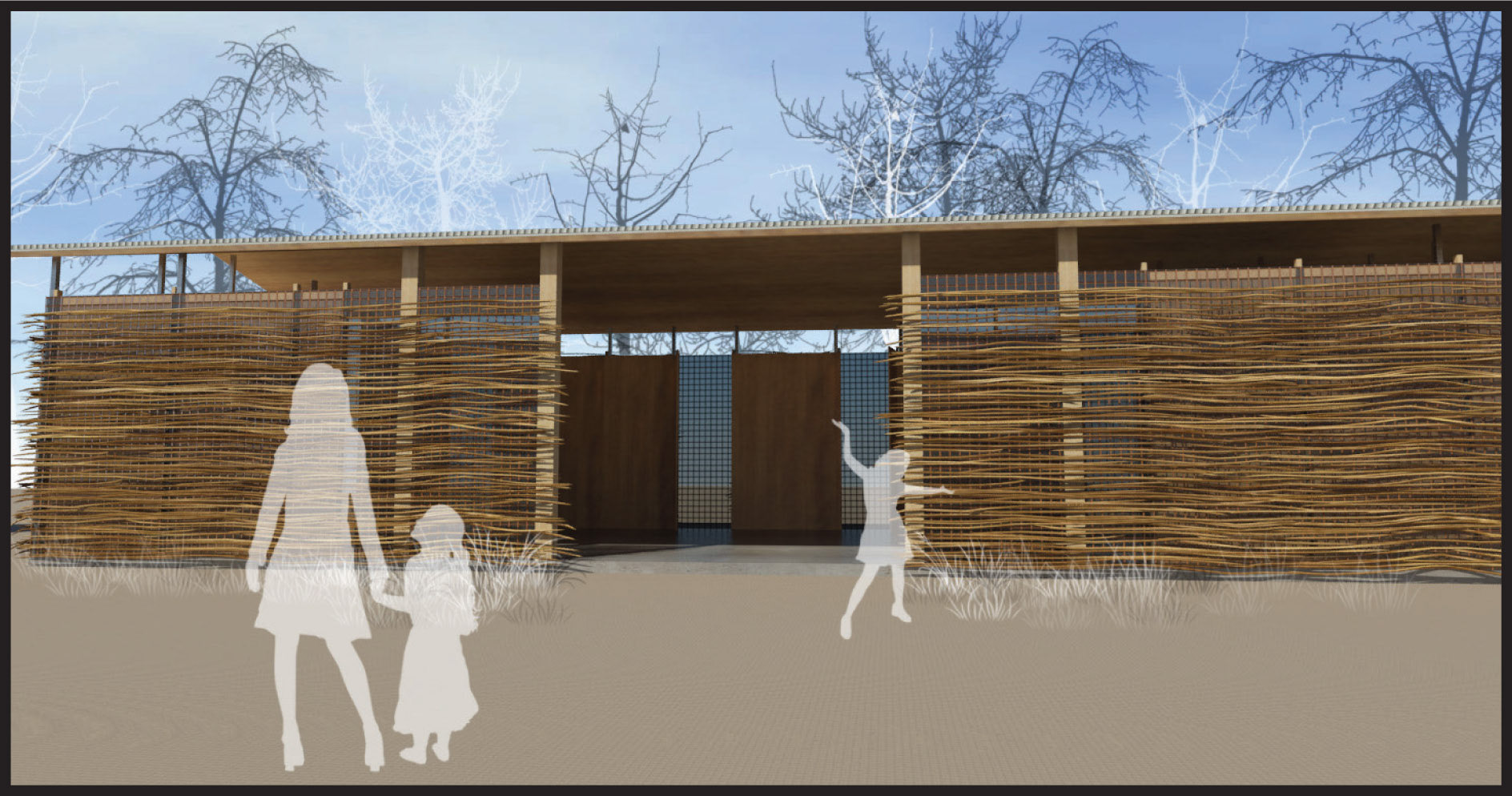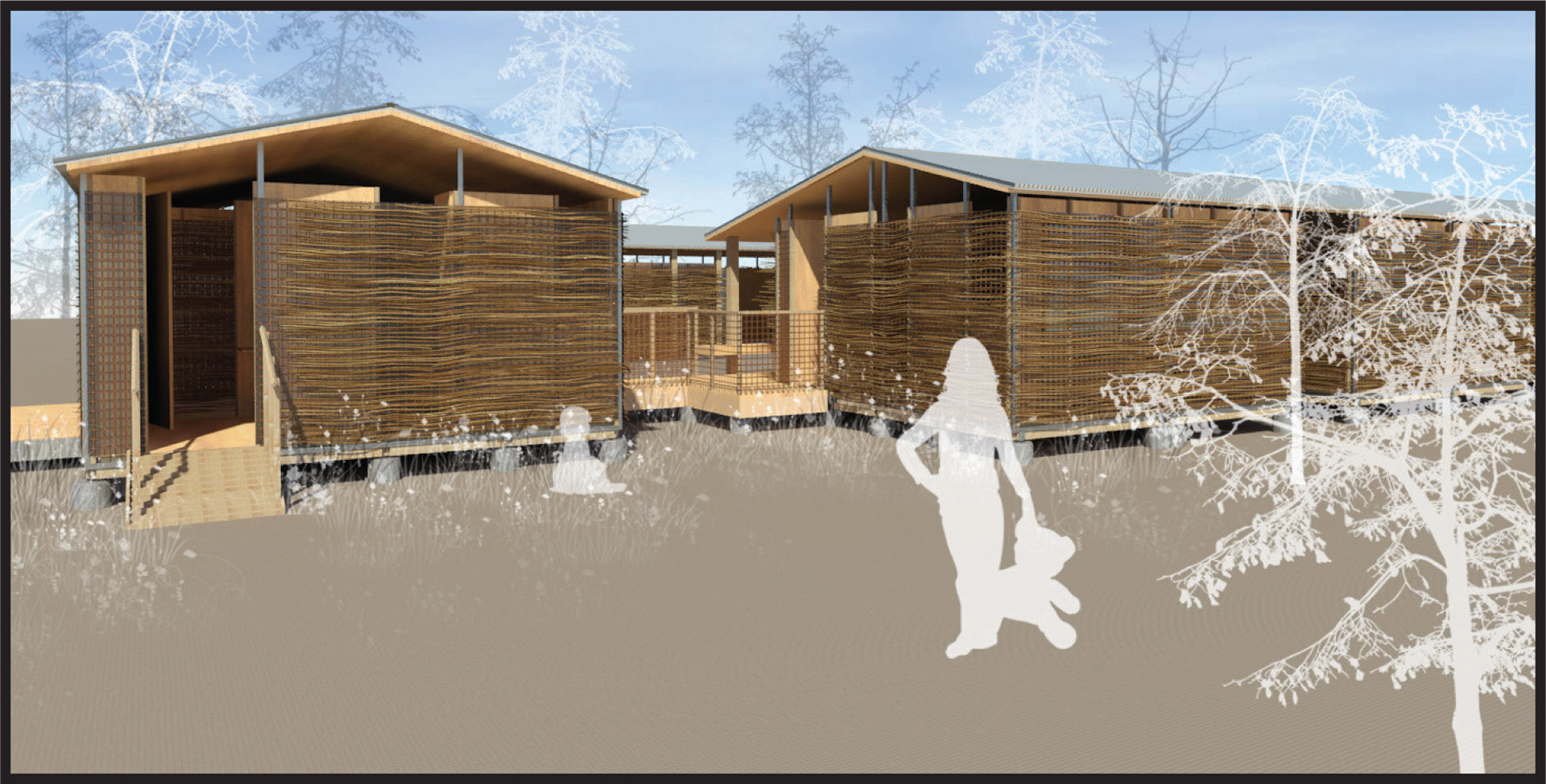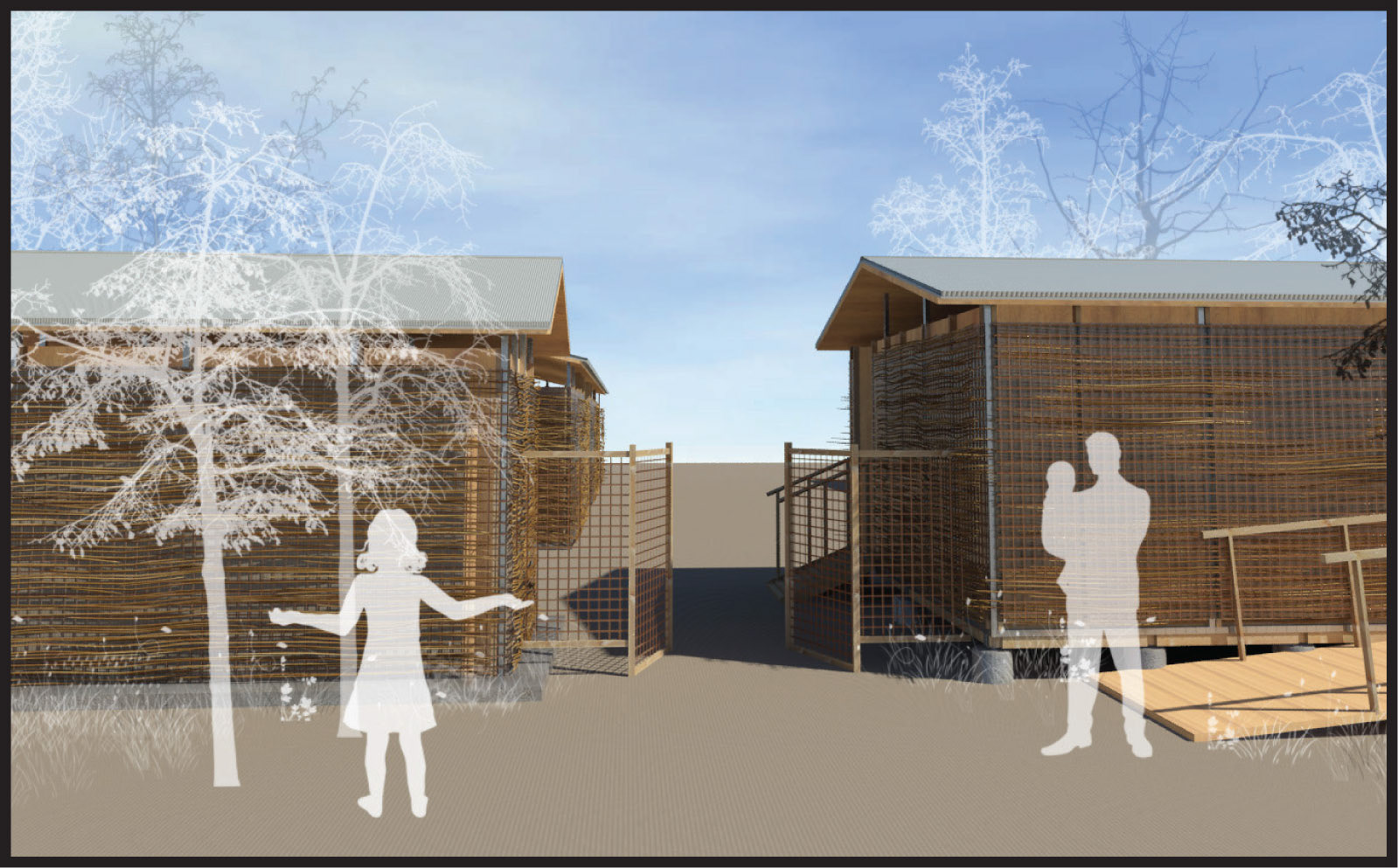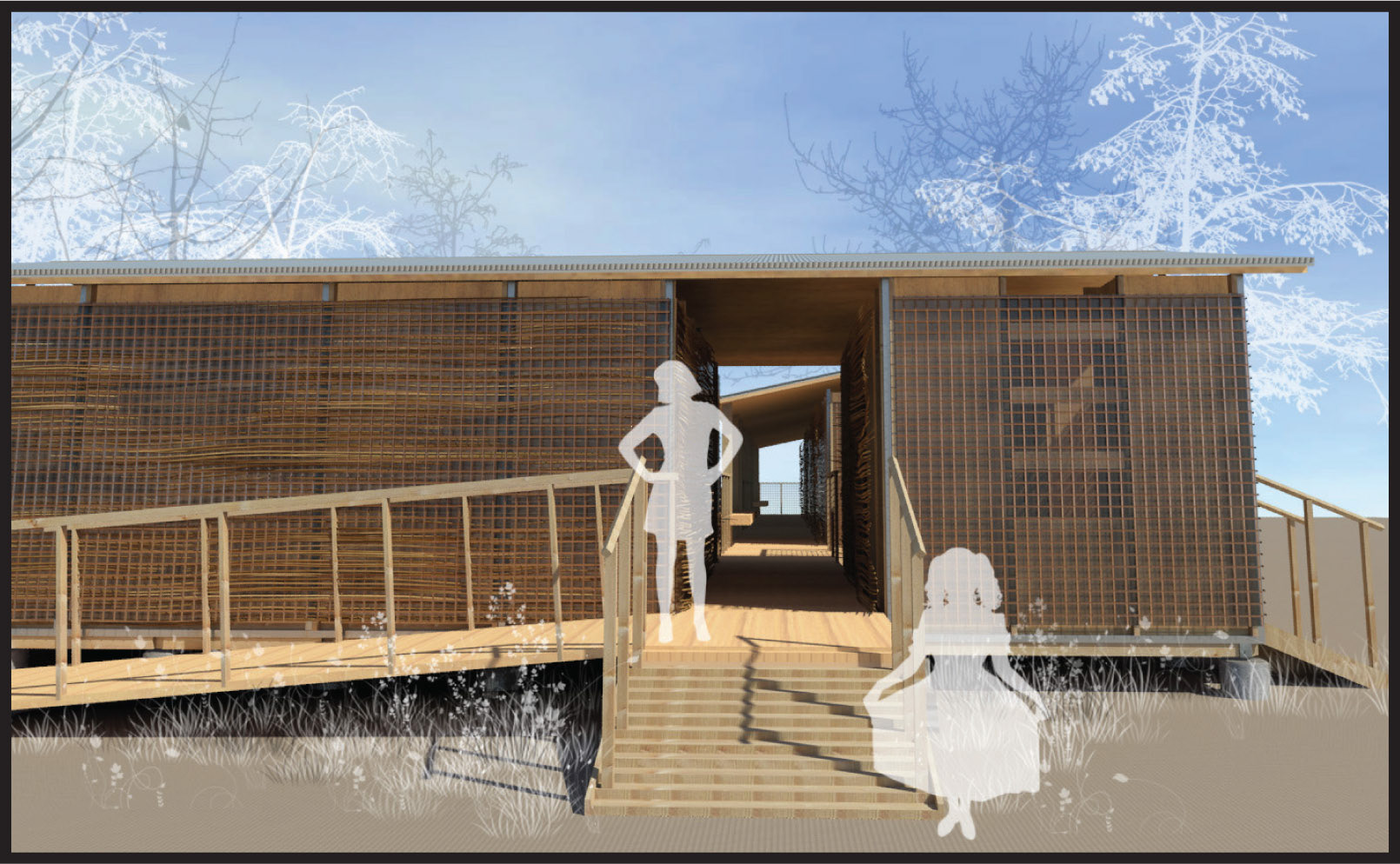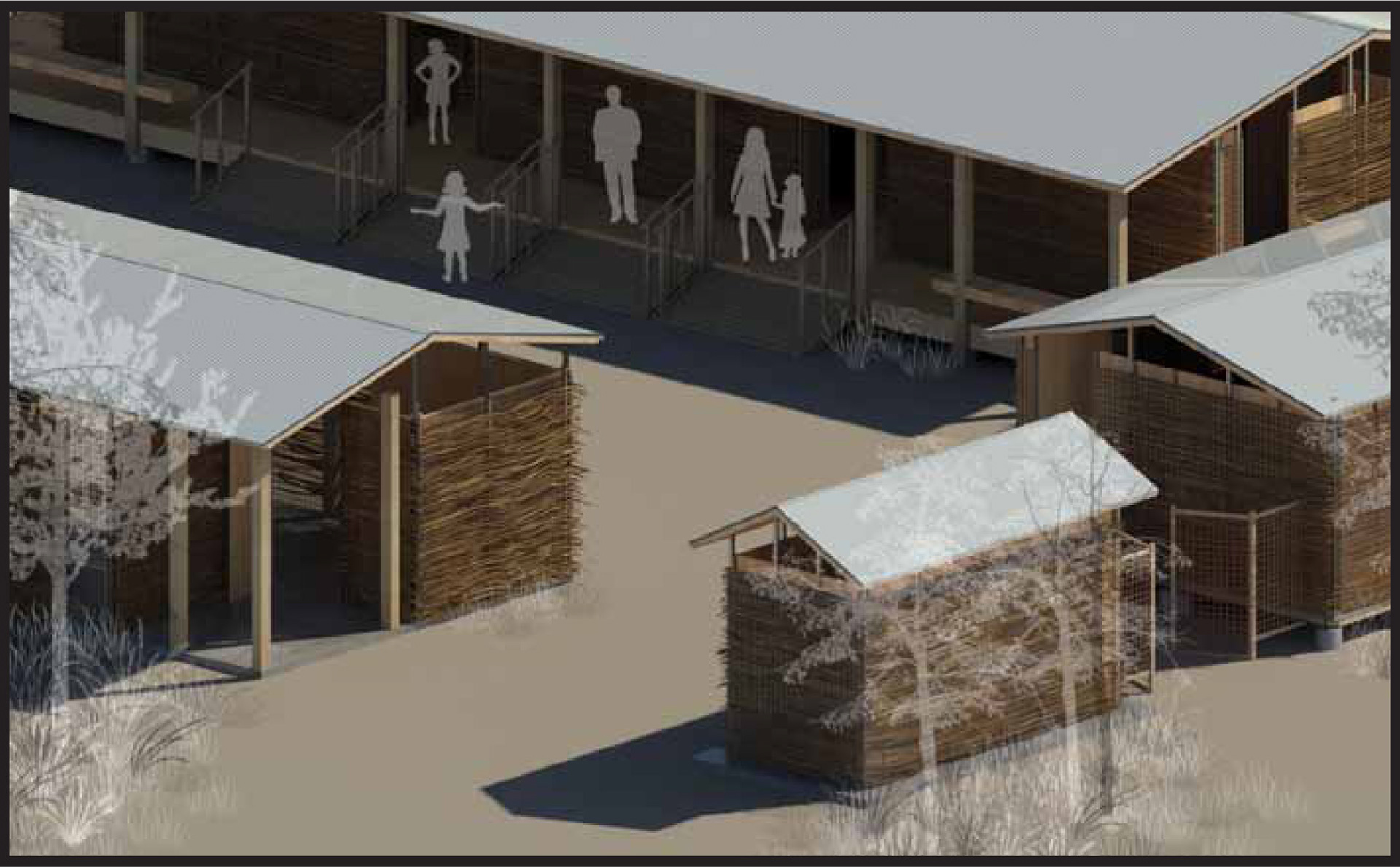 EFFICIENCY AND EASE OF CONSTRUCTION
      Ease of delivery and construction is of central importance for a modular learning environment that may be uprooted and transported with little notice. In our design, packaging and shipping is as efficient as possible to reduce time and cost, and construction is intuitive and collaborative.  Each classroom floor is designed as 4 pallets that will be used for shipping the components of the shelter. At the delivery site, the pallets are set up on a system of piers with cast- in-place steel brackets that allow all 4 pallets to mate up, forming one floor plate.  Blocking at the perimeter of the floor plate serves as a shelf for the metal framing system to rest on.  With the floor plate in place, and the metal framing system erected, the design calls for pressure treated lumber to sister onto the vertical members of the metal frame. This provides our nailing surface for the sheathing.  Metal roofing provides coverage; we have added a layer of plywood sheathing under this metal roofing to dampen the sound of falling rain. A ridge vent helps circulate fresh air through each classroom.  This system of metal frame and plywood sheathing can be erected in twenty-four hours, meeting the immediate needs of students and teachers. With these basic requirements for shelter met, opportunities for creativity and personalization can come into play in the school's design.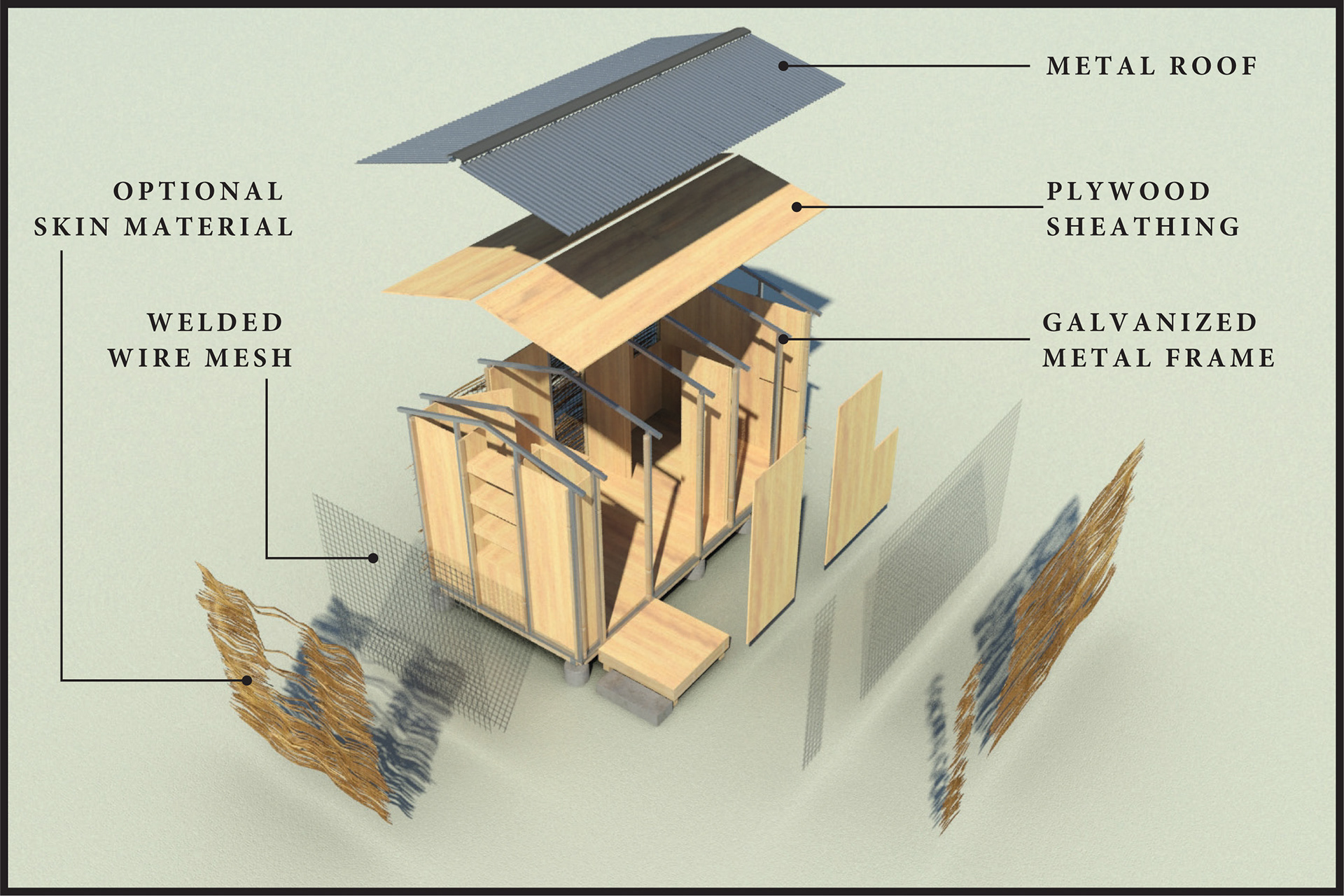 Due to the roof 's design and the placement of windows, the sun is never in direct contact with the interior of the classroom.  The structures' movable panels, or gills, help create a cross-breeze through the classrooms, so students and teachers stay cool while indoors.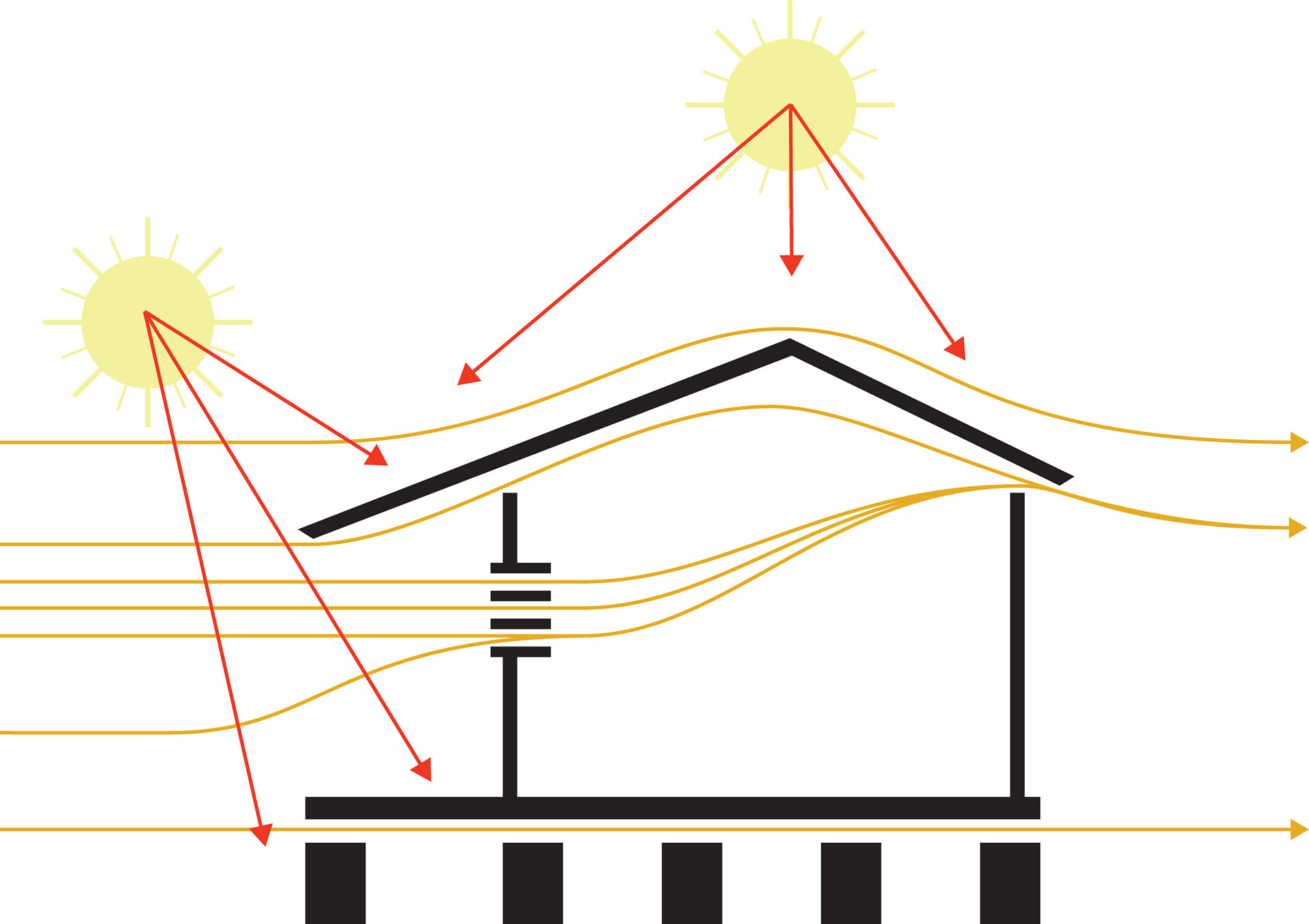 CLASSROOMS THAT ALLOWS FOR GROWTH AND PERSONALIZATION
      Students enter through a woven gate from the street, between a vehicle-accessible power plant and a reception area, into an open and secure pickup and drop-off area. A central courtyard with access to cafeteria and restrooms provides a safe place to learn and play outdoors. This courtyard could potentially open onto a student-run farm or garden behind the school. The cafeteria, a place where the entire school can come together, opens up to the courtyard for use as a forum for meetings, assemblies, performances and other group activities. A linear deck with stairs to the courtyard raises classrooms off the ground, preventing flooding and connecting to the reception and administration areas. Like the classrooms themselves, this overall layout is breathable and adaptable to the needs of teachers, students and their families.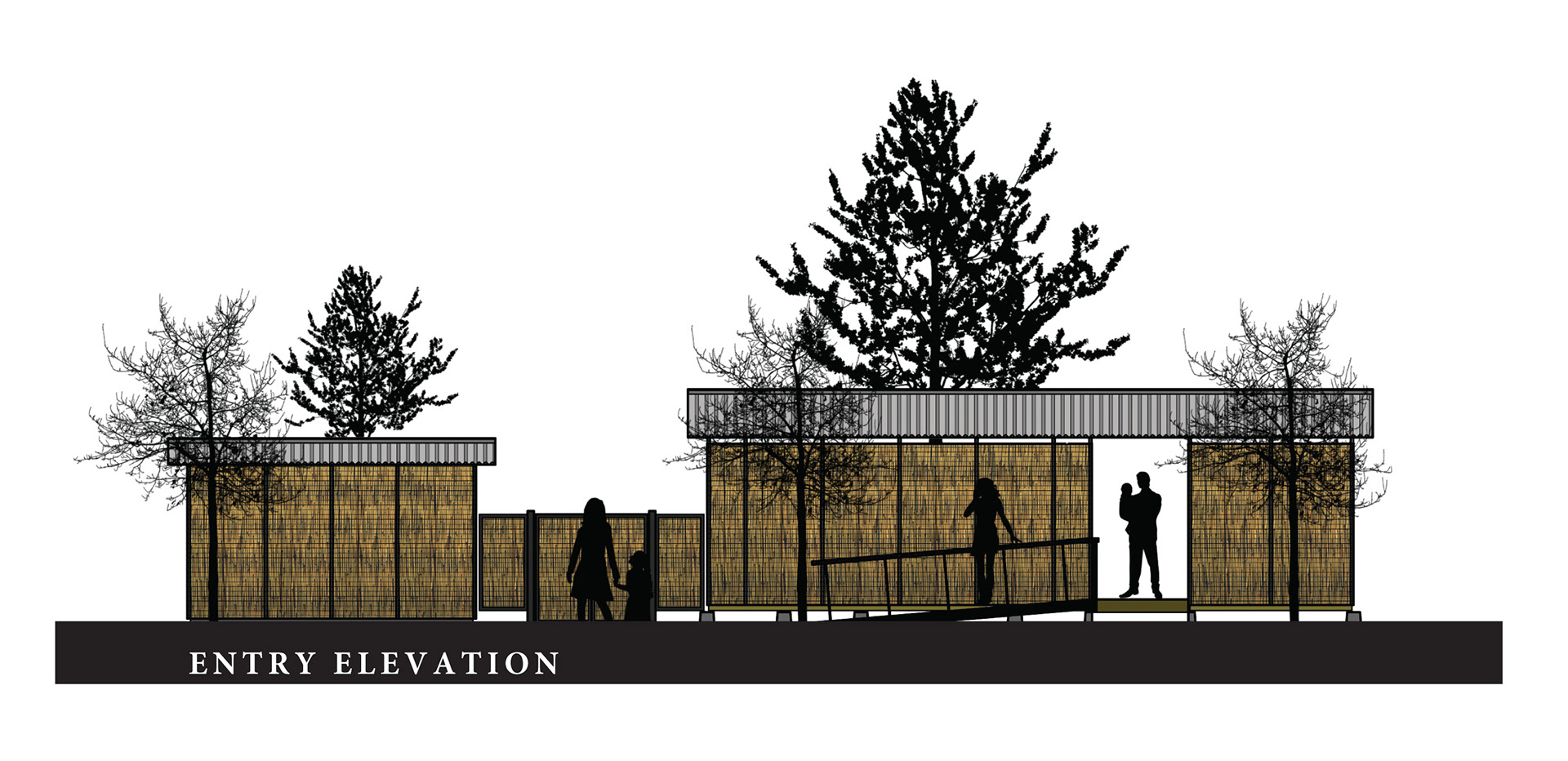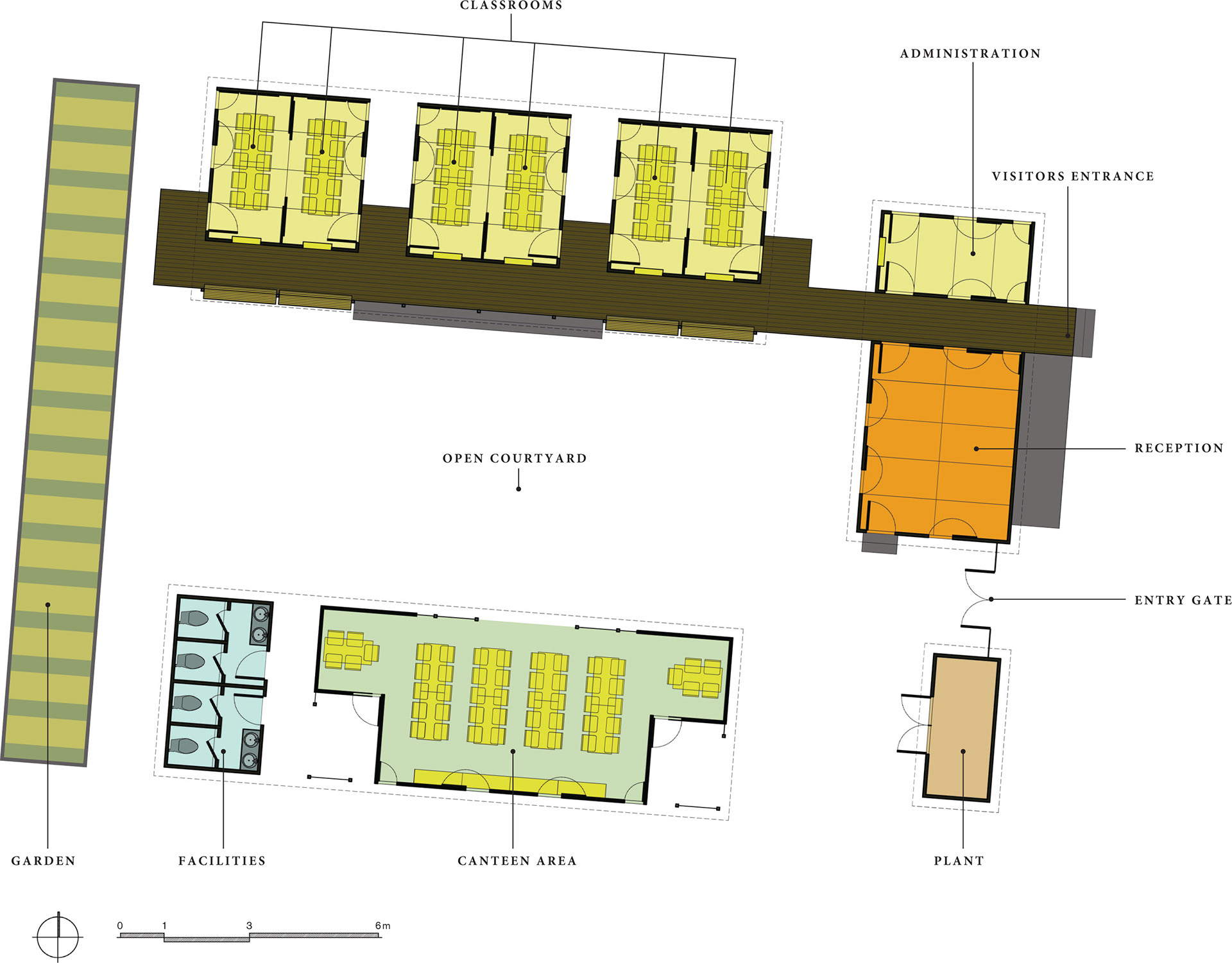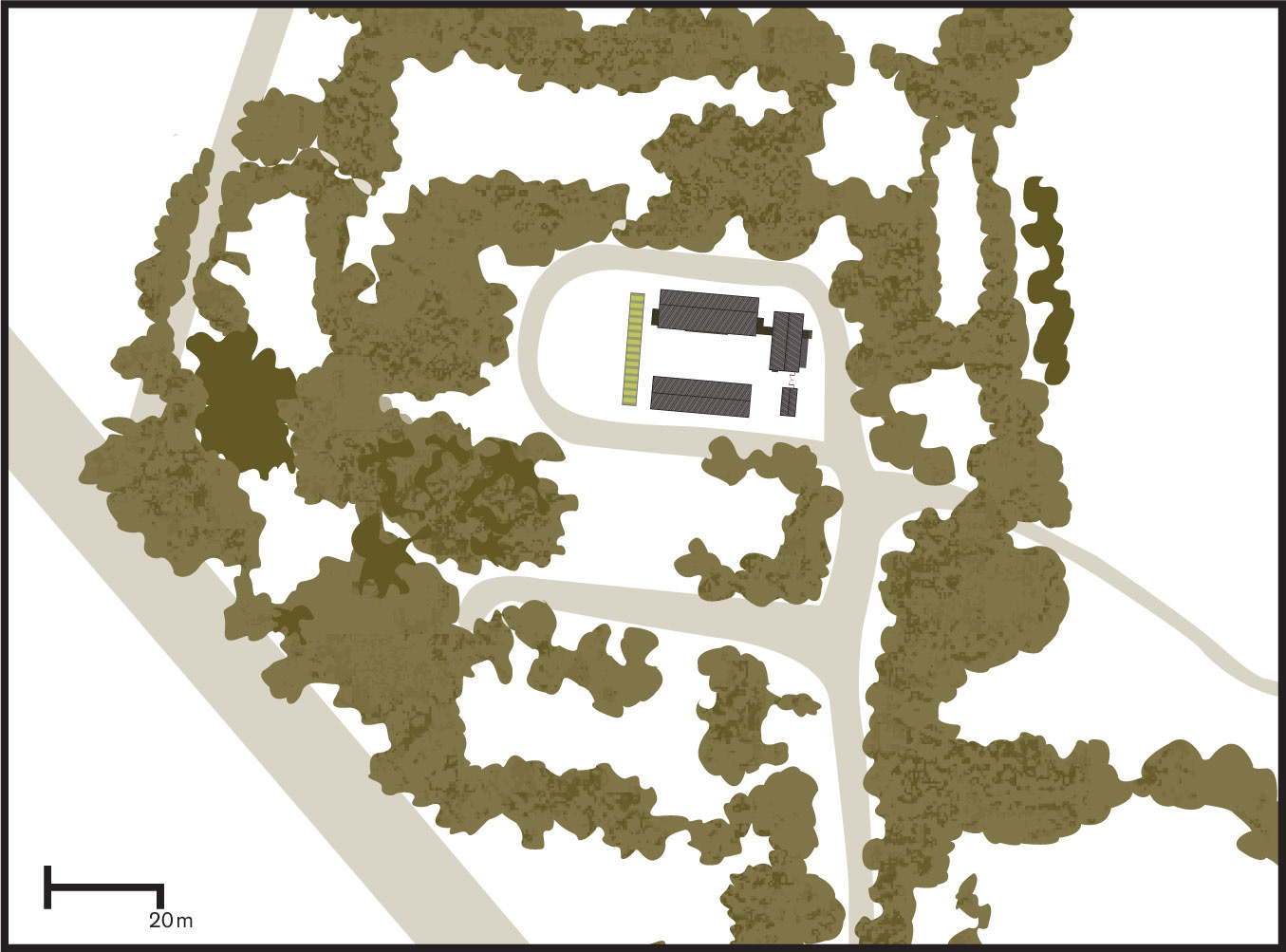 A woven exterior skin provides one such creative opportunity. On the exterior of the metal framing a welded wire mesh is attached, forming the support system for the exterior skin. This skin would act as a rain screen and an insulating double wall allowing for air circulation. The weaving of this skin, using locally collected materials, whether bamboo, twigs and branches, plastic bags, or shredded tires, would also be an invaluable learning tool, providing an opportunity for individualization and collaboration, a chance for students to connect with their immediate surroundings and personalize their everyday environment.
      Classrooms themselves are also designed to encourage growth and personalization by both teachers and students. A number of hinged components fold into optional furnishings for classrooms – small work tables, and shelving units for storage of supplies. Additionally, a number of the panels are hinged to operate like gills – teachers and students have the ability to control the cross breezes by opening and closing the gills. The flexibility of these gills allows classrooms to be divided into two rooms, or to open up onto other classrooms or deck space, forming larger, shared spaces for learning. Our hope is for these classrooms to reflect the evolving needs of the teachers and the children using them.